Coconut boba tea is easy to make at home. All you need are a few common ingredients, plus ready-made tapioca pearls. You can add coconut whipped cream or vanilla to make it even more decadent. This coconut boba tea is gluten-free and dairy-free. 
This recipe uses black tea, but you can easily substitute a different tea variety to adjust the taste or make it lower in caffeine. Full-fat coconut milk provides the best texture and flavor, but you can also use boxed coconut milk. Making it at home allows you to adjust the sweetness according to your taste.
Print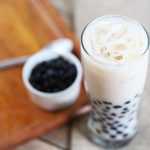 Coconut Boba Tea
---
Total Time:

15 minutes

Yield:

1

1

x
Description
This coconut bubble tea comes together quickly and is a great option for those with dietary restrictions. It is highly customizable, vegan, and gluten-free.
---
1

cup

water

1

black tea bag (or

1 tsp

of loose-leaf black tea)

1/4

cup

full-fat canned coconut milk

1 tsp

vanilla

1/4

cup

quick-cooking tapioca pearls

1 tbsp

sweetener (brown sugar, honey, or maple syrup)
ice cubes
coconut whipped cream (see recipe notes)
---
Instructions
Brew the tea: bring 1 cup of water to a boil. Remove from heat and add the black tea bag. Let it steep for 5 minutes. Discard the tea bag or tea leaves. Set aside to cool.
Prepare the tapioca pearls according to the package instructions. Drain and rinse quickly with cold water. Sprinkle 1 tbsp of sweetener over the tapioca pearls and stir to coat. Set aside.
Open the can of coconut milk and stir to combine*.
To serve: Spoon the cooked tapioca pearls into a serving glass. Top with coconut milk and vanilla. Add a handful of ice cubes and pour the brewed tea over the top.
Stir with a boba straw to combine the layers, if desired.
Notes
*Coconut milk separates in a can. The cream rises to the top, and the coconut water stays at the bottom. Stir the cream and water together until the mixture is thick and white before using it in the recipe.
You can use any black tea or green tea for this recipe. Thai tea is an excellent tea option for this coconut boba.
Brown sugar tapioca pearls, also known as black tapioca pearls, are a classic topping choice. However, you can also experiment with different fruit-flavored tapioca pearls or even flavored jellies.
Vegan whipped cream:
Place a can of coconut cream in the refrigerator the night before making your coconut boba tea. Once thoroughly chilled, open the can and scoop out the cream—DO NOT mix the cream with the water in the can. Save the water to use in smoothies.
Beat the coconut cream with a stand or hand mixer for about 30 seconds until it becomes fluffy. If you don't have a mixer, you can do this by hand but it will take approximately five minutes.
Add 1/4 cup of vegan powdered sugar and 1 tsp of vanilla. Beat for one more minute. Place a spoonful or two on top of your boba tea.
Prep Time:

5 minutes

Cook Time:

10 minutes
What Does Coconut Boba Tea Taste Like?
Coconut boba tea has hints of coconut, sweetness, and tea, but the exact taste of the beverage depends on the tea base. Black tea will add robust flavor, while jasmine green tea will add a hint of floral. Using matcha will bring an earthiness to your coconut boba tea.
Some boba recipes and shops will add coconut syrup to the drink to enhance the coconut flavor and overall sweetness.
Does Coconut Boba Tea Have a Lot of Caffeine?
The amount of caffeine depends on the type of tea you use. Black tea has around 50 mg of caffeine per cup. Green tea has about 30 mg of caffeine per cup. If you are sensitive to caffeine, you might prefer caffeine-free herbal tea or fruit tea instead of black tea.
You can also substitute caffeine-free black tea or green tea to preserve the flavor.
Is Coconut Milk Tea Healthy?
Coconut milk tea isn't healthy, per say, but it is healthier than many other boba teas. It contains added sugars and carbs, so those on a low-carb diet should consume coconut milk tea in moderation.
Coconut milk has antioxidant and antimicrobial properties. Some doctors believe that it also improves oral and skin health.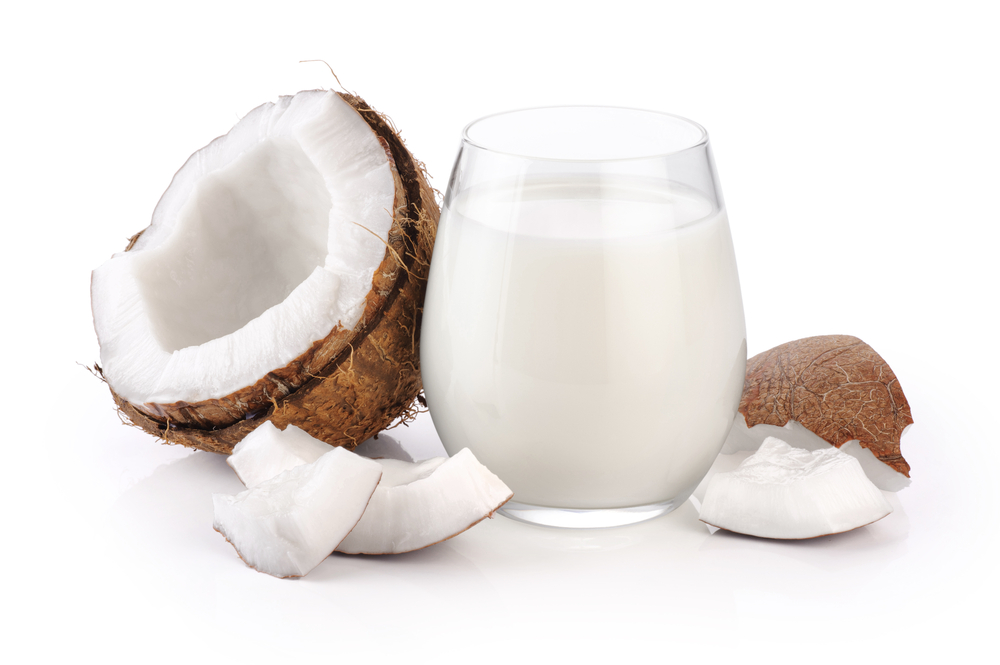 If made as directed above, each serving of your coconut milk tea will contain approximately:
| | |
| --- | --- |
| Nutrition | Amount |
| Calories | 210 |
| Fat | 6 g |
| Sugar | 15 g |
| Carbohydrates | 50 |
| Cholesterol | 0 mg |
| Protein | 1 g |
Can You Use a Different Type of Milk in Coconut Boba Tea?
Coconut boba tea requires coconut milk. Canned, full-fat coconut milk yields the best flavor and creamy texture. You can swap out the full-fat version for low-fat or skim coconut milk if you prefer.
Many stores sell shelf-stable coconut milk if you can't find canned coconut milk. Boxed coconut milk won't make your boba tea as creamy, but it will still provide coconut flavor.
Using coconut cream instead of coconut milk will make your boba tea even more decadent. The cream also separates inside the can, so stir it before using. If you'd like to top your boba tea with vegan whipped coconut cream, follow the recipe notes above.
Another option in place of coconut milk is to use coconut milk powder. It easily dissolves into the warm tea mixture. However, coconut powder won't create a thick bubble tea.
Which Bubble Tea Toppings Are Best With Coconut Bubble Tea?
Since coconut bubble tea is light and creamy, we prefer to stick with delicate toppings like jellies or fruit. Jellies come in various flavors, including coffee, pineapple, strawberry, and coconut. Adding a few jellies to your coconut bubble tea gives it an extra fruit flavor.
Additionally, dried coconut flakes or chocolate shavings make great toppings for your coconut bubble tea. You can find unsweetened coconut flakes in most grocery stores. Then all you need is a few pieces of your favorite chocolate bar, and you'll have a hint of chocolate on top of your bubble tea.