This strawberry matcha latte recipe was made popular by the bubble tea chain Boba Guys. This recipe uses fresh strawberry puree, matcha tea, and milk. It is earthy and sweet. Like most bubble tea recipes, you can easily customize this drink's sweetness, caffeine, and temperature.
You'll need a blender and a matcha whisk to make this refreshing drink. Prep the strawberry puree ahead of time and refrigerate until thoroughly chilled. The rest of the drink is easy to put together.
Print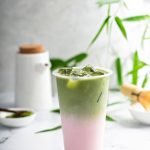 Strawberry Matcha Boba Latte
---
Total Time:

1 hour 20 minutes

Yield:

2

Servings

1

x
Description
You can use frozen or fresh strawberries for this recipe. This delicious blend of flavors is comforting and refreshing. The addition of sweetened tapioca pearls adds a chewy element that's difficult to resist.
---
3/4

cup

water

1/2

cup

sugar

1

cup

strawberries

3 teaspoons

matcha powder

1/2

cup

steaming hot water

2

large handfuls of ice cubes

1 1/2

cup

milk

1/2

cup

of tapioca pearls, preferably quick-cooking

2 tbsp

simple syrup
---
Instructions
To make the strawberry puree, combine 1/2 cup sugar and 1 cup of strawberries in a small bowl. Let sit for 10 minutes to release the juices in the strawberries.
Blend in a blender or food processor until smooth.
Transfer the mixture to an airtight container and refrigerate for 1 hour or until thoroughly chilled.
While the puree is chilling, place the matcha powder and half of the hot water into a small bowl. Whisk with a bamboo whisk or frother until the powder starts to dissolve.
Add the rest of the hot water and whisk until all the matcha powder is dissolved.
While the matcha is cooling, cook the tapioca pearls according to the package instructions. Drain them and transfer them to a bowl.
Drizzle the simple syrup over the tapioca pearls and stir to combine.
To assemble the tea, add 1/4 cup of tapioca pearls to the bottom of each serving glass, followed by 1/3 cup of the cooled strawberry puree.
Add a large handful of ice and half of the milk to each glass. Pour the milk slowly over the ice cubes, so it doesn't mix with the strawberry puree.
Slowly pour the matcha on top of the milk. Again, pour slowly enough to keep the layers separate.
Serve with a boba straw, and enjoy!
Notes
Instead of simple syrup, sweeten the cooked tapioca pearls with 2 tbsp brown sugar or maple syrup.
Use any plant-based or dairy milk you prefer. Try whole milk, half and half, oat milk, coconut milk, or almond milk.
Double the amount of matcha powder for an extra strong strawberry matcha latte. Alternatively, use 1/2 tsp of powder for a less-caffeinated latte.
Store extra strawberry puree in the fridge for up to 7 days.
Prep Time:

1 hour

Cook Time:

20 minutes
What Does a Strawberry Matcha Latte Taste Like?
A strawberry matcha latte is rich and creamy. Matcha tea, a type of green tea, tastes earthy and slightly bitter. The strawberries add sweetness, as do the tapioca pearls. Both the strawberries and boba add chewiness to the latte. Overall, a strawberry matcha latte tastes sweet, creamy, and earthy.
Green tea powder is entirely different from matcha powder—use fresh matcha powder for the best results. Preferably, use ceremonial grade matcha tea, as it is the standard grade matcha for drinking. Culinary-grade matcha is prepared slightly differently and is better for baking and cooking.
How Much Caffeine is in This Drink?
One teaspoon of matcha powder contains approximately 70 mg of caffeine. Following the recipe above, your boba latte will have about 105 mg of caffeine. While this might sound like a lot compared to other teas, it is comparable to a cup of coffee.
However, the phytonutrients in matcha tea cause your body to absorb the caffeine much slower and more evenly than you would coffee; this means you'll have a nice, smooth caffeine buzz for between four and seven hours, not just one jolt of energy and a crash.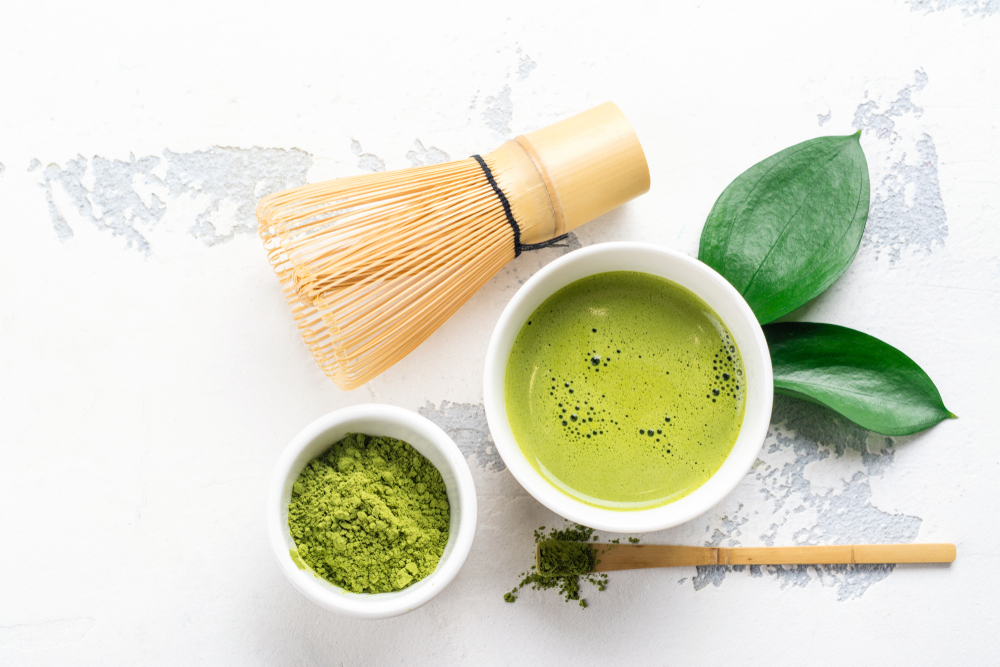 How Many Calories Are in a Strawberry Matcha Boba Latte?
Each serving of this strawberry matcha latte, without tapioca pearls, contains about 190 kcal. The sweetened boba add about 64 kcal to this tea drink, bringing the total calories to approximately 254 kcal. If you want to cut calories, try a lower-calorie topping like chia seeds or jelly.
8 Health Benefits of a Strawberry Matcha Latte
Strawberries are low glycemic, making them a good choice for those watching their blood sugar. Frozen strawberries are just as healthy as fresh strawberries, so choose whichever best fits your budget.
Strawberries are also:
A good source of fiber
Cholesterol-free
Fat-free
High in Vitamin C
High in potassium
Matcha tea is made from the same plant as green tea. Once the tea leaves are harvested, they are ground into a fine powder, creating the matcha powder we all know.
Matcha tea has been known to:
Aid in preventing cancer, along with other green tea
Improve brain function
Promote heart health
If you use dairy milk in your recipe, you'll also have a good source of calcium and vitamin D. Remember that combining these ingredients with sugar and tapioca pearls may lessen any health benefits. Always consume bubble tea in moderation.

What Is the Difference Between a Boba Milk Tea and a Boba Latte?
Traditionally, milk teas are made with non-dairy creamer. Milk teas refer to a variety of teas with milk added. Lattes are made with fresh milk, sometimes steamed.
A boba latte is a variation of a coffee latte made with tea instead of coffee. Lattes are usually made from matcha tea or another strong tea powder. Whether you prefer a milk tea or a latte, by making your boba at home, you can add the amount of sweetener and type of milk you like.
Which Bubble Tea Toppings Are Best in a Strawberry Matcha Latte?
Bubble tea offers many topping choices. Some, like jellies, are commonplace, while others, like red bean topping, are more unusual in the US.
Try these topping ideas for your next strawberry matcha latte:
Chia seeds
Crystal boba
Egg custard
Fruit jelly
Popping boba
Rainbow jelly
Whipped cream