If you are looking for a simple and healthy boba drink at home, this kefir & pineapple bubble tea recipe is for you! It has everything you love from a traditional milk tea— it is sweet, creamy, aesthetically pleasing, and even includes tapioca pearls.

Kefir is a fermented drink with many health benefits and pairs nicely with the sweetness of pineapple. This delicious drink is easy to make and is a delightful treat for any time of the day. You'll need a 16-ounce cocktail shaker to get the proper texture.
Print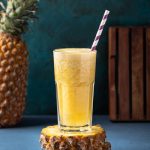 Kefir & Pineapple Boba Tea
---
Total Time:

20 minutes

Yield:

1

1

x
Description
Kefir and pineapple boba tea combines two unique drinks. The kefir is tart, while the tea is bitter. The addition of pineapple rounds out the flavors and adds sweetness. This healthy drink will become your favorite in no time.
---
8

oz

brewed jasmine tea (cooled to room temperature)

2

oz

milk kefir

4

oz

pineapple juice

1/4

cup

brown sugar tapioca pearls
ice cubes
pineapple slices (for garnish)
---
Instructions
Put the milk kefir, pineapple juice, and jasmine tea into a shaker filled with ice.
Shake for 5-10 seconds until the ingredients are combined.
Put ¼ cup of tapioca pearls in the bottom of the serving glass, followed by ice.
Pour in the kefir-pineapple-tea mixture.
Place a slice of pineapple on the side of the glass to garnish, and enjoy.
Notes
This is a versatile recipe. It is possible to use fruit other than pineapple. Some great ones to try are grapefruit, lemon, passion fruit, kiwi, lychee, orange, or strawberry.
Using fruit tea rather than jasmine tea will lessen the caffeine content and change the flavor slightly. Matcha or green tea will increase the caffeine and create a unique iced tea that is refreshing and nourishing.
If you prefer a kefir smoothie, blend the kefir-tea mixture with the fresh or frozen fruit instead of using it as a garnish.
Also, rather than using tapioca pearls, popping boba or fresh fruit can make great toppings.
Prep Time:

15 minutes

Cook Time:

5 minutes
What Is Kefir?
Kefir is a fermented drink made from cow, sheep, or goat milk. It is created when kefir grains, colonies of yeast and lactic acid bacteria, are added to milk. Within 12-24 hours, the microorganisms in the grains multiply and ferment the sugars in the milk, creating kefir. The grains are small and white and look similar to popcorn.
The kefir culture can be removed from the liquid and used again and again to make more milk kefir.
Like kombucha, kefir contains many probiotics, which are good bacteria and essential for gut health. You can buy pre-made kefir at your local grocery store or make your own.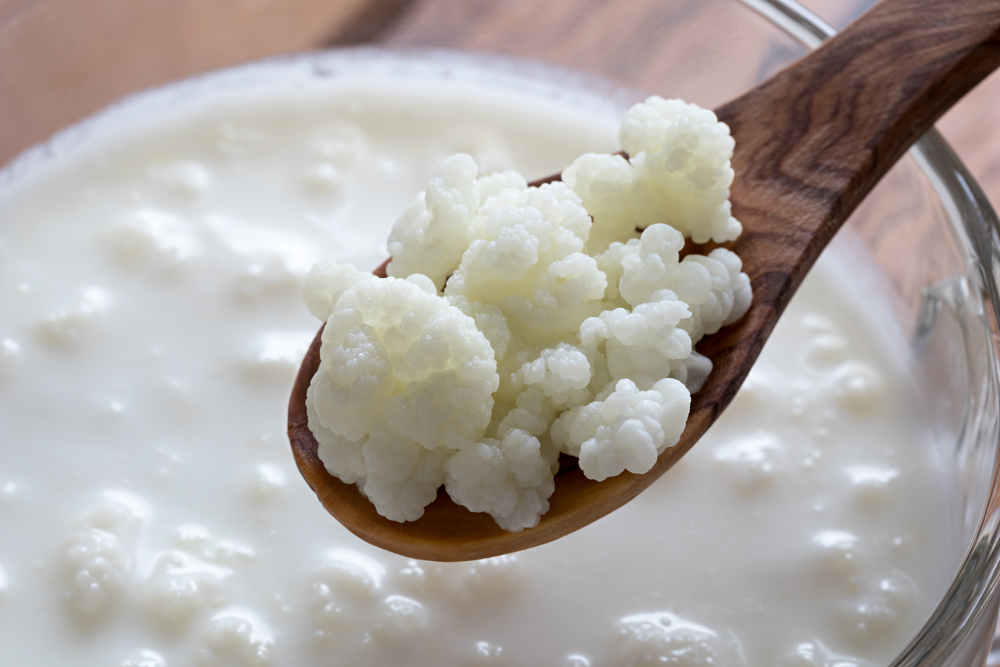 What Does Kefir & Pineapple Bubble Tea Taste Like?
For some people, kefir is an acquired taste. It is creamy and has a slightly sour taste to it. If you have tried plain yogurt, it has a similar flavor, but kefir is slightly milkier, less dense, tarter, and slightly effervescent.
Adding pineapple to kefir gives it a sweeter taste. You can also add additional sweetener to lessen the sour taste of the kefir. The most common additives are white or brown sugar, stevia, honey, and maple syrup.
10 Health Benefits of Milk Kefir
There are several health benefits of milk kefir. Some of these include:
Digestive support
Relief from constipation
Improving heart health
Lower cholesterol
Can aid in weight loss
It contains more probiotics than yogurt drinks
It has antibacterial qualities
It improves bone health
It may help protect against certain cancers
It may improve allergies and asthma symptoms
How Much Caffeine Does Kefir & Pineapple Tea Have?
This recipe, made with jasmine tea, contains between 15 and 60 mg of caffeine per cup. The longer the tea bags or tea leaves steep, the more caffeine will be released, so if you want a higher caffeine dosage, steep your tea for longer than we recommended. However, if you steep it for too long, you risk it becoming bitter.
Is It Possible to Make Vegan Kefir?
Yes, it is! Several vegan kefir recipes include plant-based milk rather than dairy milk. Changing the milk will change the consistency and may cause you to lose some of the calcium you'd be getting if you were using dairy milk.
Some vegan milk kefir drinks include:
Soy milk kefir
Almond milk kefir
Tapioca balls are naturally gluten-free and vegan (depending on the sweetener used). There is also water-based kefir, but that would completely change the flavor and texture of your boba drink.