On or off the golf course, this beverage is a hit. Following the classic recipe, this recipe uses half tea and half lemonade. We elevated this drink by using homemade lemonade and adding tapioca pearls. It's light, refreshing, crisp, sweet, and easy to make at home. 
While golf legend, Arnold Palmer, made this drink famous on the golf course, Arizona tea company made this drink accessible worldwide. Boba Buddha is taking it one step further and introducing you to the Arnold Palmer bubble tea.
Print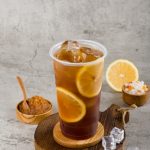 Arnold Palmer Bubble Tea
---
Total Time:

20 minutes

Yield:

2

Servings

1

x
Description
This Arnold Palmer bubble tea is a refreshing drink for any afternoon. I prefer it with homemade lemonade (see recipe notes), but you can also use store-bought lemonade if you prefer.
---
2

black tea bags

1

cup

water

1

cup

lemonade

1/2

cup

tapioca pearls—preferably quick cooking

2 tbsp

brown sugar or simple syrup

2

large handfuls of ice cubes
Lemon slices for garnish (optional)
---
Instructions
Bring 1 cup of water to a boil in a small saucepan. Once boiling, remove from heat and add the tea bags. Let steep for 3-5 minutes.
Set aside to cool. You can also make the tea the day before and chill it overnight in the refrigerator.
Cook the tapioca pearls according to the package instructions. Drain.
Cover the pearls with sweetener and stir to combine. Set aside to cool for a few minutes.
Spoon 1/2 of the tapioca pearls into each serving glass.
Add 1 handful of ice cubes to each glass.
Pour 1/2 of the lemonade over the pearls.
Pour 1/2 of the brewed tea into the glass. Garnish with fresh lemon slices (optional)
Stir to combine and serve with a boba straw.
Notes
Change the flavor by adding fruit puree. Try peach, raspberry, or strawberry.
Make homemade lemonade (you'll need a hand-held or electric juicer):
1. Combine 1/3 cup white sugar and 1/3 cup water. Bring to a boil to create a simple syrup. Let simmer for about 2 minutes until the sugar is completely dissolved.
2. Let cool to room temperature.
3. Then, combine the simple syrup and 1/3 cup of lemon juice (from 2-3 lemons). Stir to combine.
4. Add up to 1/3 cup more water, a little at a time, to taste.
Prep Time:

5 minutes

Cook Time:

15 minutes
What Does an Arnold Palmer Bubble Tea Taste Like?
An Arnold Palmer bubble tea tastes sweet and tart. The tart lemonade combines with the sweet tapioca pearls to create a crisp, slightly sweet tea drink. The black tea rounds out and combines the flavors perfectly. The tapioca pearls also add a chewy texture that contrasts with the smooth tea.
How Much Caffeine Is in an Arnold Palmer?
This Arnold Palmer contains about 25 mg of caffeine per serving. Most grocery stores sell various types of black tea, including Earl Grey, oolong, or English Breakfast, which can vary in caffeine. Black tea is higher in caffeine than other teas. If you are sensitive to caffeine, avoid consuming caffeinated drinks after 2 pm or choose decaffeinated drinks when available.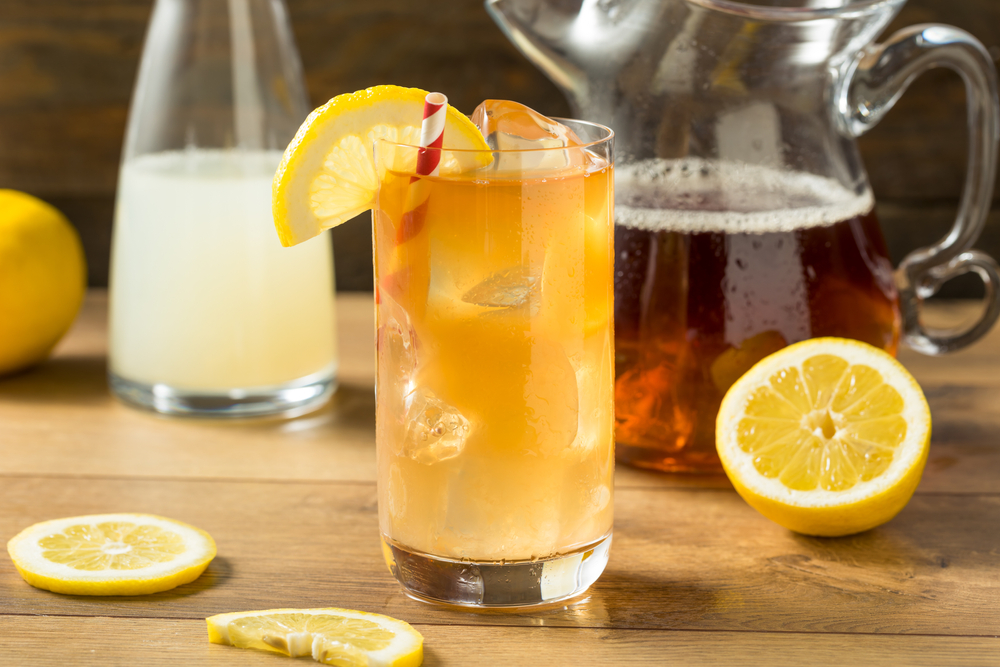 Can You Use a Different Type of Tea in This Recipe?
This recipe works well with either black tea or green tea. The taste of Chai tea or matcha tea will not work well with lemonade. You could also try jasmine tea, but it may be too bitter and floral.
How Many Calories Are in an Arnold Palmer Bubble Tea?
There are about 370 calories in this Arnold Palmer bubble tea. Nearly half of the calories come from the tapioca pearls, which are also high in carbs. A 1/4 cup serving of brown sugar tapioca pearls contains as many as 50 carbs. Because it is high in calories and carbohydrates, bubble tea is best enjoyed in moderation.
Why Is It Called an Arnold Palmer?
An Arnold Palmer is the signature drink of the American golfer Arnold Palmer. It is made using half unsweetened iced tea and half lemonade. Sometimes an Arnold Palmer drink is made into a cocktail by adding vodka or bourbon.
Arnold's wife, Winnie, created her own version of the drink using southern-style sweet tea and lemonade. Her version is called the Winnie Palmer and is significantly sweeter.
What Other Toppings Are Good in an Arnold Palmer Bubble Tea?
Our recipe uses tapioca pearls, but you can also try one of the following:
Dash of fruit puree—try strawberry or raspberry
Fresh fruit—berries or lemon slices
Fresh mint leaves
Ginger candies
Popping boba—pomegranate, mango, or pineapple